Why the Michelin Guide returned to LA
Why the Michelin Guide returned to LA
Why the Michelin Guide returned to LA
An exclusive conversation with three of the new Michelin-starred chefs who gave the Guide a reason to return.
"The people in Los Angeles are not real foodies. They are not too interested in eating well, but just in who goes to which restaurant and where they sit."
These are the words of the Michelin Guide's former director, Jean-Luc Naret, shortly after they withdrew the Guide from LA almost a decade ago. But times have changed. On 3 June 2019, no less than 25 LA restaurants were awarded Michelin stars. Bon Vivant travelled to the West Coast to meet with three of the new Michelin-starred chefs, to find out how their contemporary interpretations of Californian cuisine gave the Guide a reason to return.
1315 3rd Street Promenade
Santa Monica, CA 90401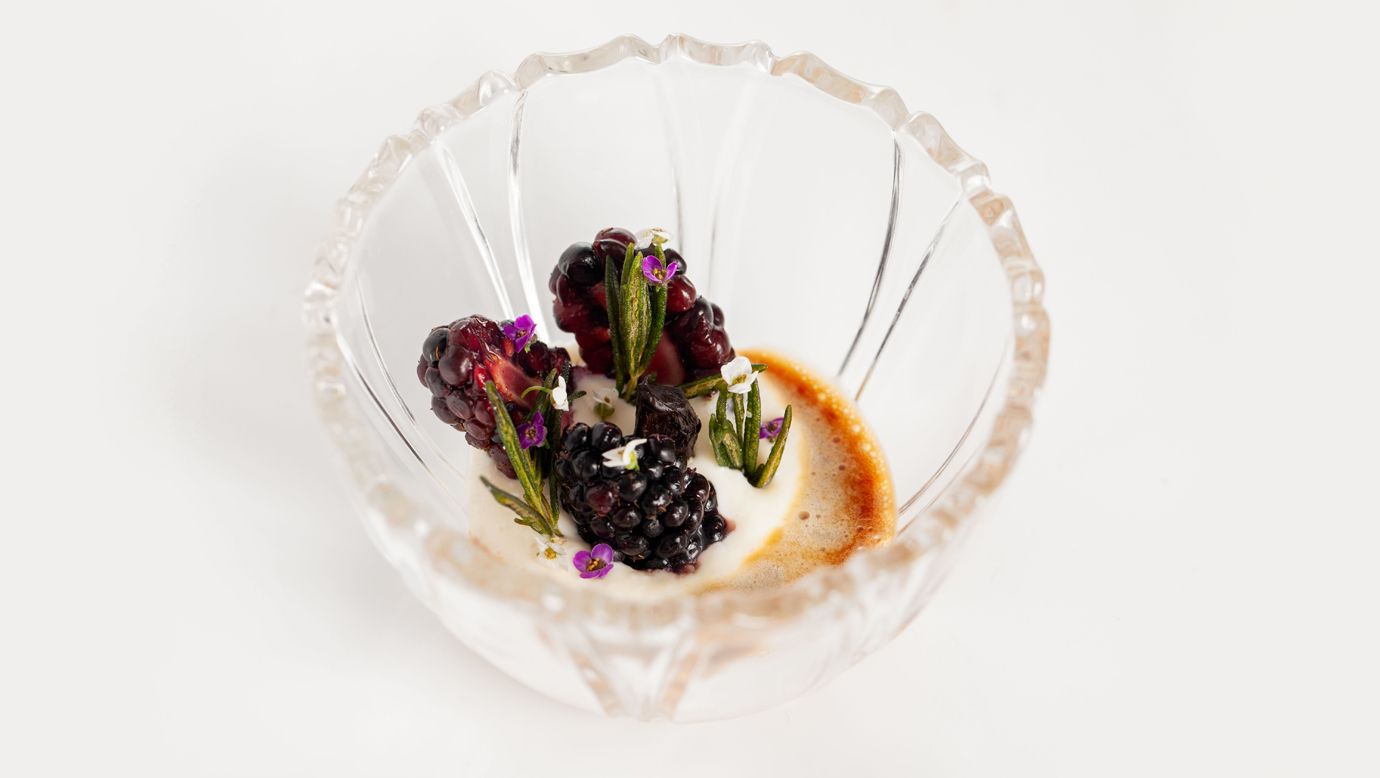 Dialogue, Dave Beran
Dialogue can only be found by those who already know it is there. Journey to its destination on a map and you will find yourself in a Santa Monica food court. There's an ice cream shop and a beach-style taqueria, but no trace of the 20-course tasting menu restaurant from Dave Beran – the James Beard Award-winning chef who cooked alongside Grant Achatz at three Michelin-starred Alinea for years. Yet, Dialogue is unapologetically and unashamedly there: a theatrical 18-seat dining room, hidden behind a nameless grey door that acts as a gateway to one of the most magnificent dining experiences in the city.
After working as a chef in some of Chicago's top restaurants, Beran was drawn to LA's "incredible produce" but also because the dining scene reminded him of Chicago in the early 2000s. "It was a younger, more ambitious dining scene with a lot of room for growth", reminisced Beran. "And there were a lot of ambitious diners as well. You can have the best restaurant in the world but if you have terrible diners, they're not going to support you."
However, Beran couldn't wrap his head around the lack of seasons in LA and he couldn't understand where the produce was coming from. "You have strawberries in December!" he marvelled. As with many fine chefs before him, Beran turned to the ideas presented by Japanese Kaiseki for inspiration – the traditional multi-course dinner that is considered the height of Japanese cuisine. "Kaiseki is all about forward progress," he said. "If it's an autumn Kaiseki menu, the first courses remind you of summer and the end of the menu looks towards winter. It sets your mind into this state of forward momentum."
It was important to Beran not to attempt to adhere to all the exacting rules of Kaiseki, but instead use its nuances as a lens to understand the LA market. Beran began working towards a multi-course menu that, in a single sitting, would take diners on a journey through the seasons, beginning with dishes that captured the essence of the previous season and ending with a teaser of the season to come.
Beran already had the overarching structure of Kaiseki as a blueprint for Dialogue's menu, but it was engagement with music and great literature that inspired him to finalise his concept. The idea was to give each dish a single ingredient from the previous dish, but also one from the next, so that the whole menu was inexorably interwoven: "courses that need the courses around them so that together they complete an idea – like songs in great albums or chapters in a book."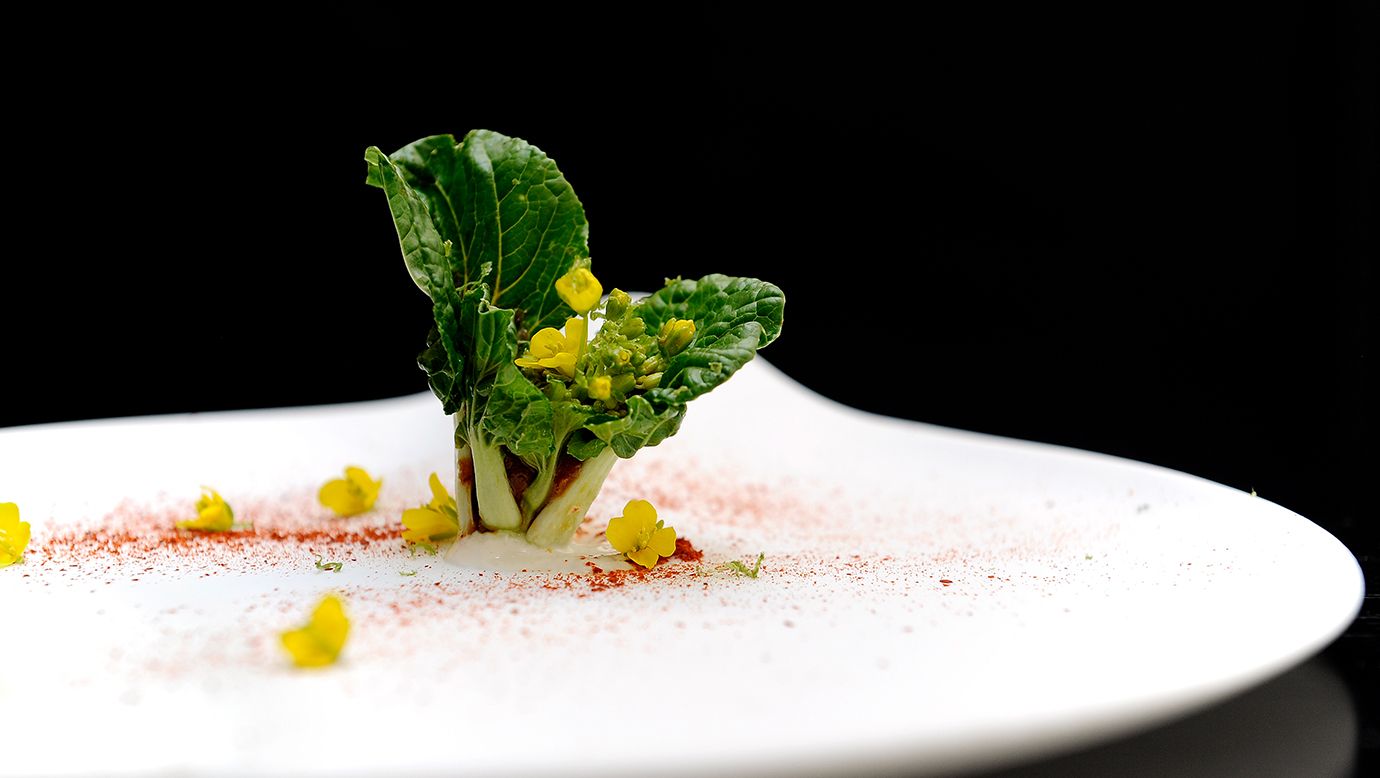 Baby choi sum, strawberry nam prik pao © Erin Simkin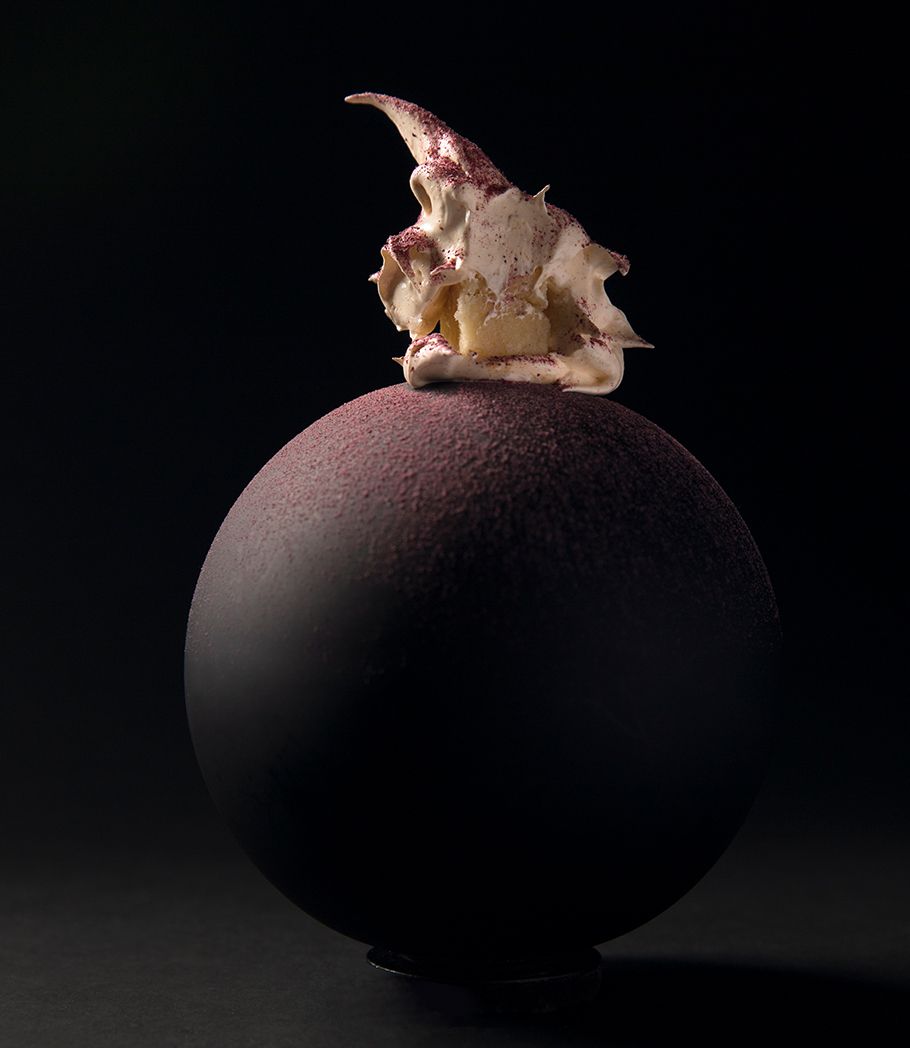 Lightly fermented hachiya persimmon with lemon shortbread © Erin Simkin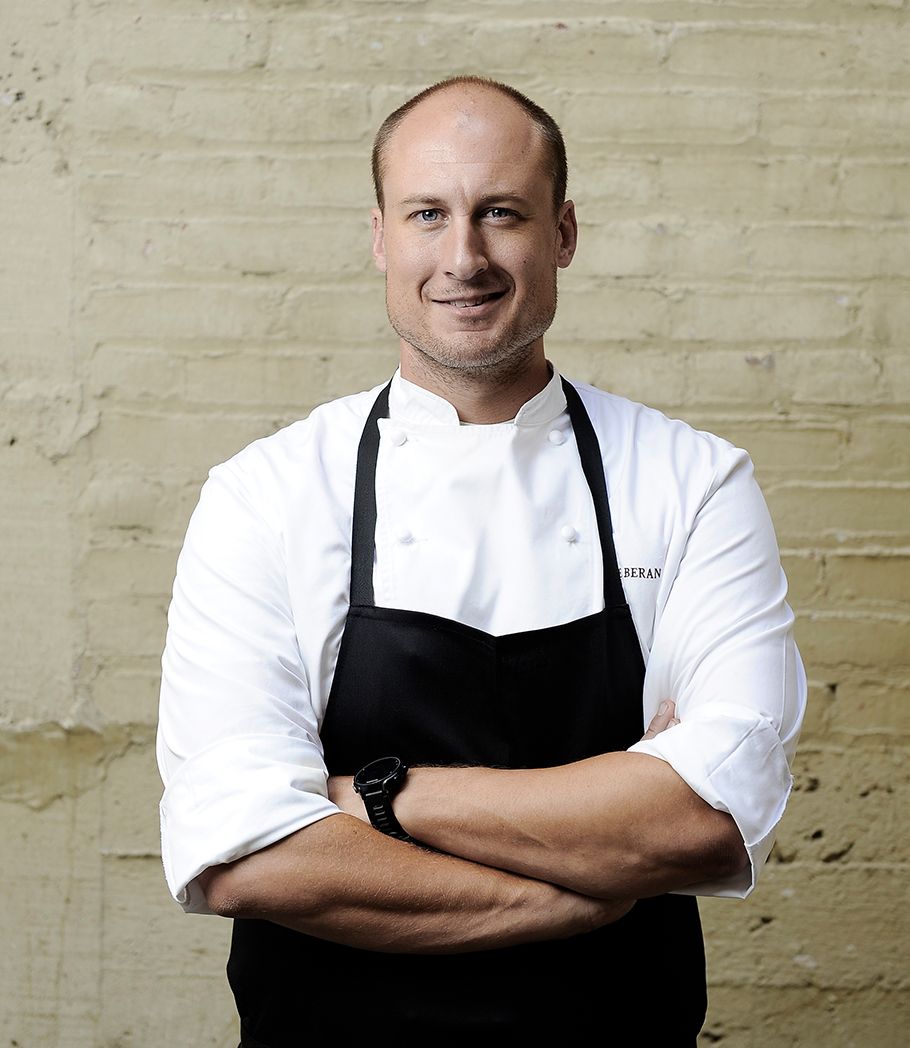 Beran proceeded to guide us through the elaborate process for Dialogue's current 20-course menu: a vast and intricate spreadsheet in which each dish is given a number between one and five in a seemingly endless series of factors – "number of bites", "savoury to sweet", "timeless to modern", "comfort vs challenge", so on and so forth. "This is where the business degree comes in," we observe scanning across the tasting menu reduced to numbers. But Beran corrects us: "or Philosophy.
"This method allows us to look at the menu like sheet music. I can tell you how it is going to feel without trying the dishes. If you have two challenging dishes, I know you need a comforting dish next, because you have to reward people after a challenge, otherwise you lose them."
Having worked as Chef de Cuisine at Alinea when it was awarded three Michelin stars, we asked Beran how it felt to be awarded a star for doing something so different and unique with Dialogue. "I'm really proud of what we are doing here," said Beran. "We didn't change anything because we got one instead of two. We change constantly regardless, and I like to think our menu is getting better and better because we're always getting a stronger idea of what we're doing here. But I can't change that our bathrooms are in the food court."
5722 Melrose Avenue,
Los Angeles, CA 90038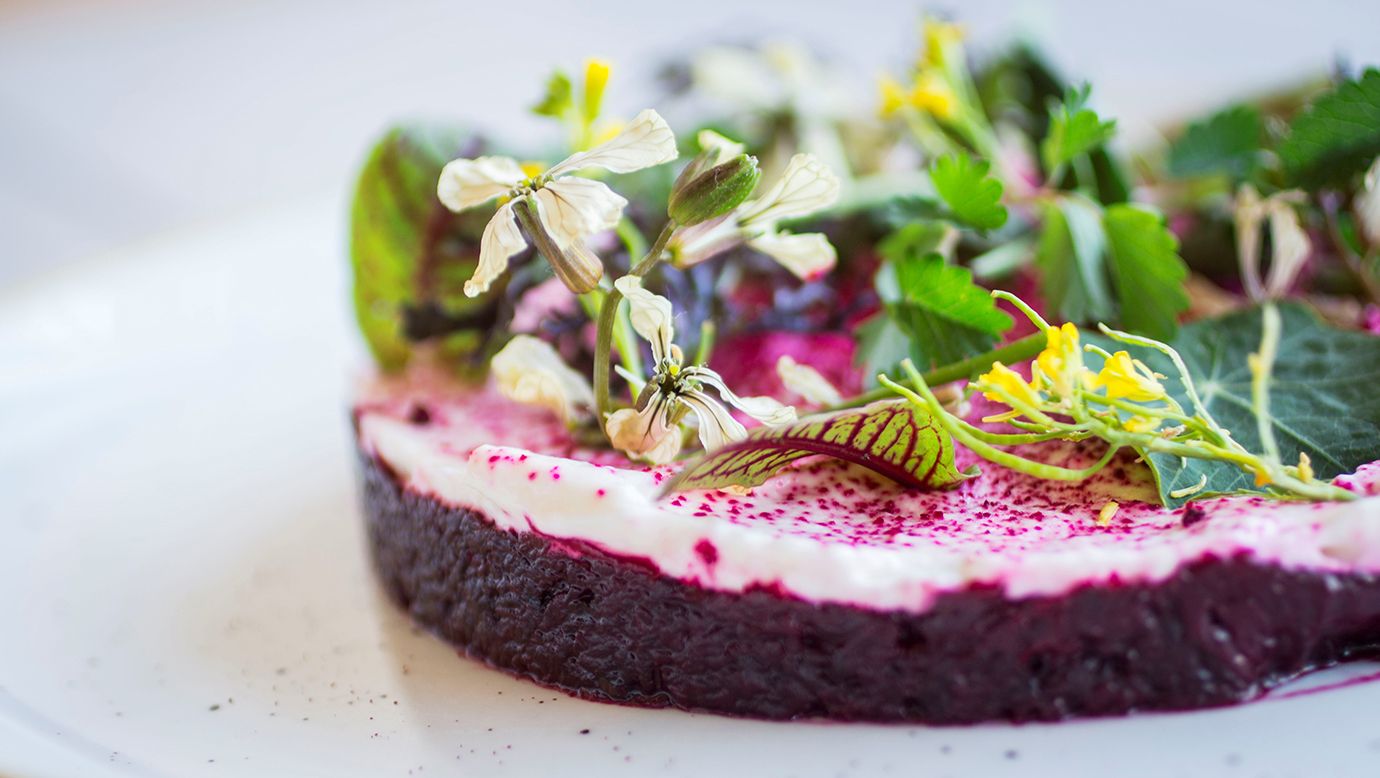 Kali, Kevin Meehan
If the Michelin Guide was driven away by LA's preference for style over substance, then there is no wonder they were drawn to Kevin Meehan and Drew Langley's Kali – the restaurant that started as an underground pop-up, which saw Meehan serving up intimate dinners out of flower shops or in friends' dining rooms. Perhaps now, more than any other restaurant in the city, Kali makes for the ideal antidote to the more vapid facet of LA's culinary landscape.
Venture to the casual dining space a stone's throw away from Paramount Studios and you will find unparalleled Californian produce prepared with all the finesse and rigour of French fine dining. One can just as easily dive into the eight-course seasonal tasting menu, featuring a mélange of dry aged meats and delicate emulsions, as they can stop by for a quick work lunch of charred avocado salad.
"We have a fine dining tasting menu in the evenings that's constantly changing," said Meehan, "but if you look around you now you see people eating business lunches. I would love to be selfish and have a big long tasting menu with a narrative, and I've got good friends that are still serving menus like that here in LA, but it's really a dying art."
Having worked as a chef in LA since 2000, first at L'Orangerie with a young Ludo Lefebvre (now of Trois Mec fame) and later at Citrine and Patina, there was never any question of where Meehan would open his first solo project. "I really believe the Californian produce is some of the best in the world," said Meehan. "But this isn't news – you cook with good produce and it's going to taste good. You can take an amazing artichoke from a local farm, and even if you cook it in Italian olive oil and leftover wine reduction, it's still going to taste like a good artichoke. But what if you take that artichoke and you cook it in a beautiful local olive oil, and a great Californian wine? Then it's going to create a whole different dining experience."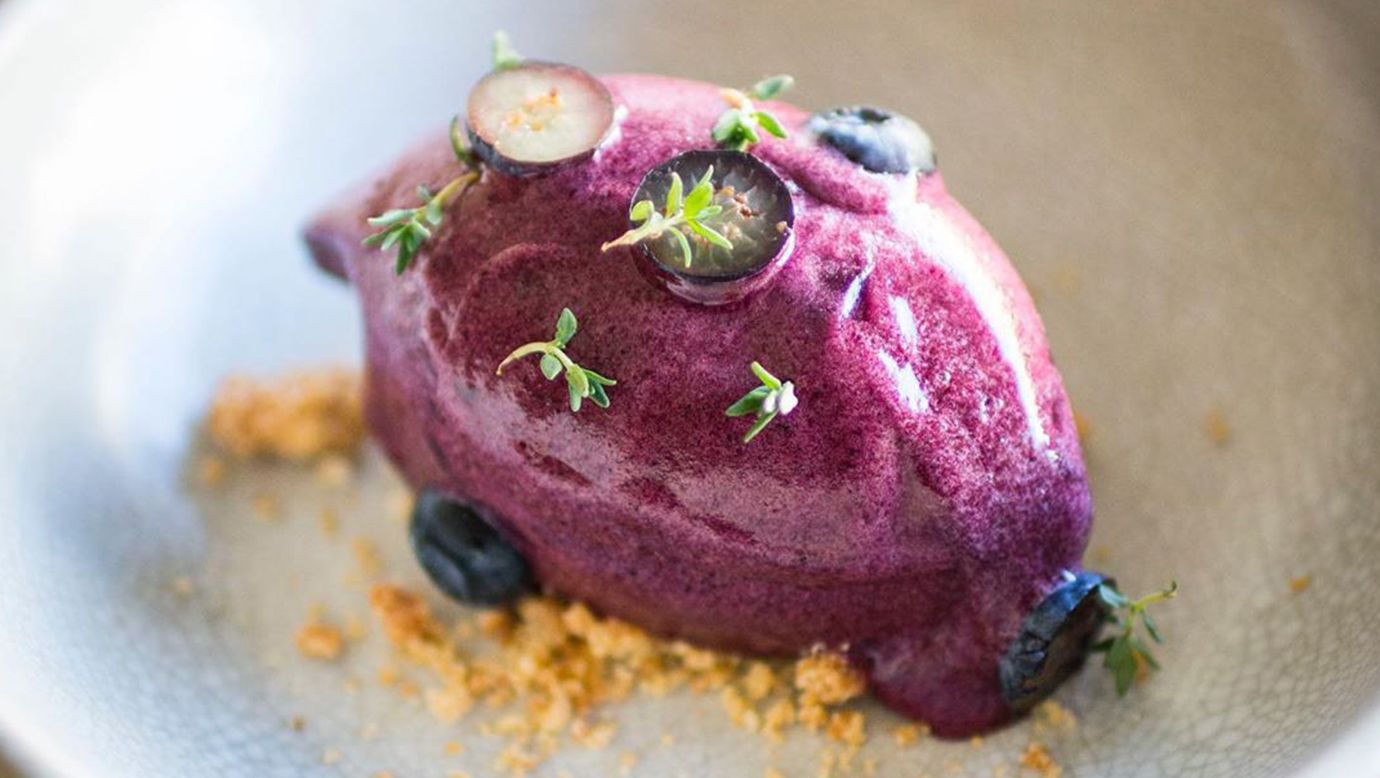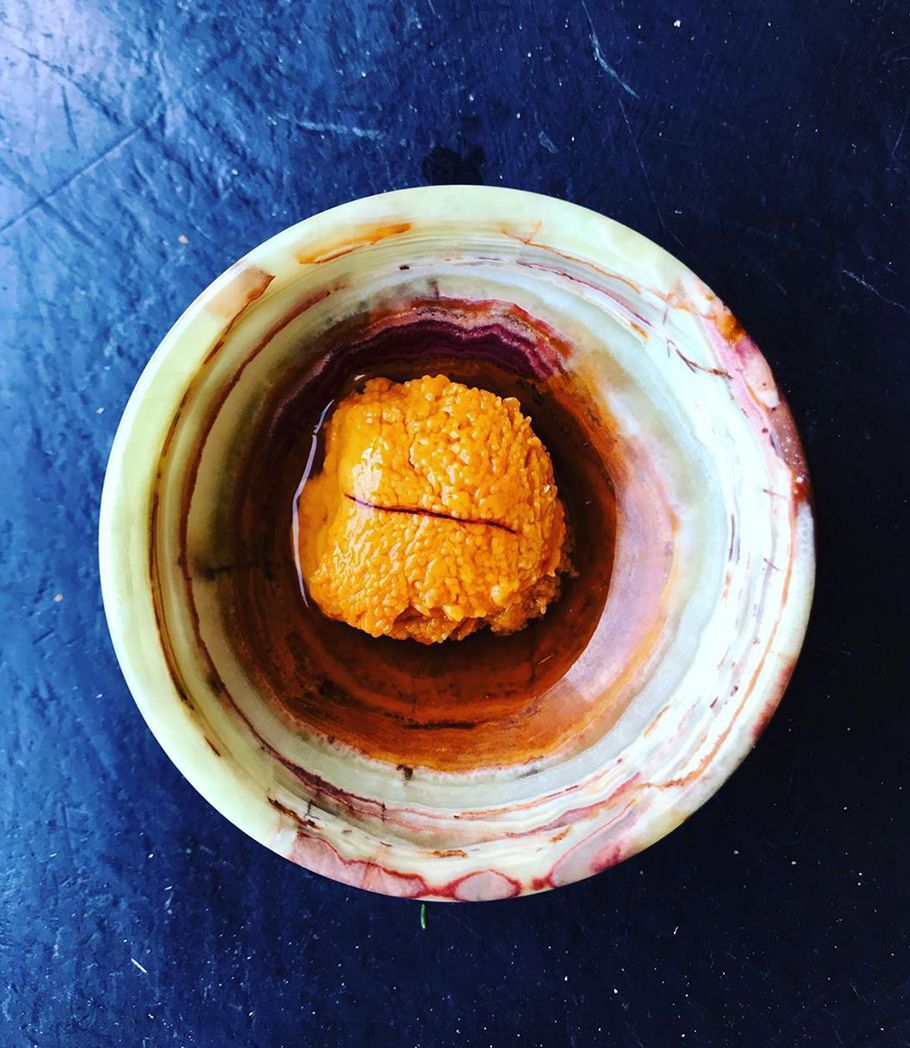 Sea Urchin with lacto fermented Porcini jus © Kali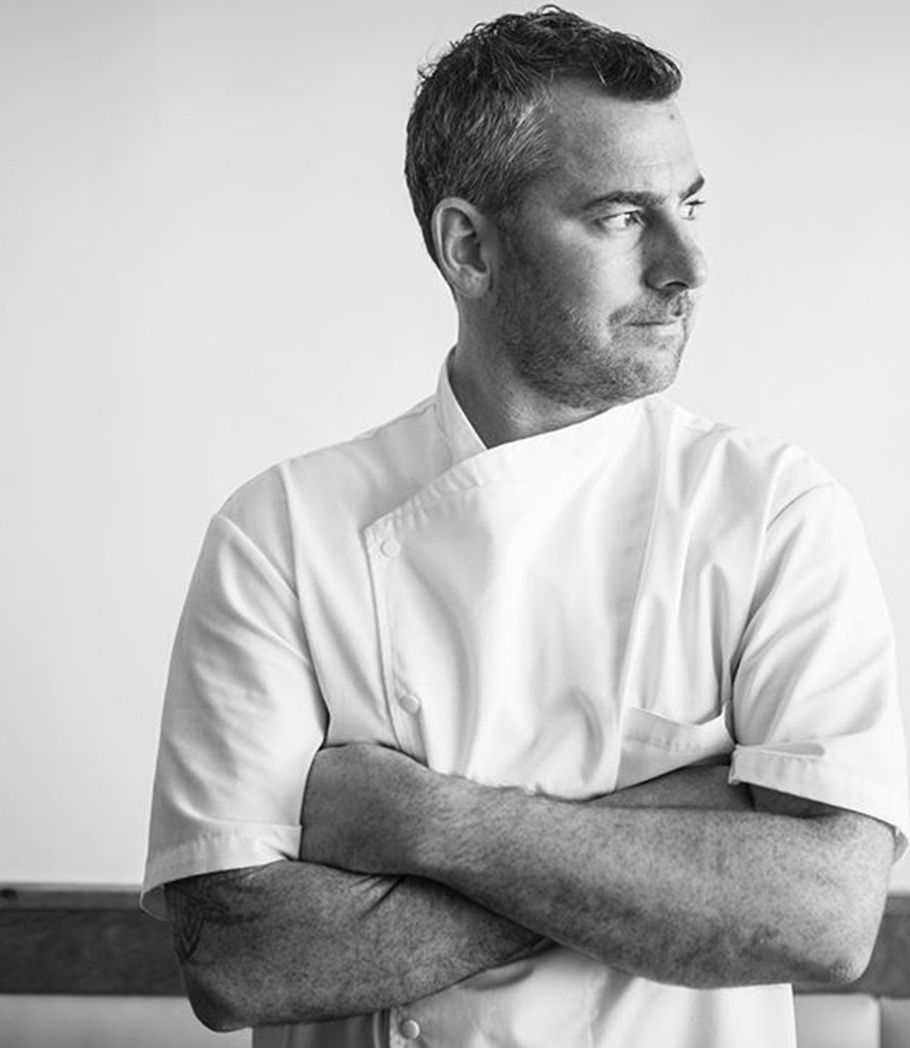 Head chef Kevin Meehan © Kali
Meehan dedicates as much energy to sourcing his ingredients as he does to preparing them. You'll find his menu sprinkled with the names of his favourite suppliers – duck from "Liberty Farms", cheese from "Fiscalini Cheese", squabs from "Carpenter's Ranch" etc. "I want to be able to give guests a journey through California," said Meehan. "I could serve beef from the Midwest and some people might say that beef from the Midwest is better. I love frozen langoustines from Spain, but we get all our fish from Santa Barbara, the tomatoes are local, and we make vinegar with the vines. I don't think there are many fine dining restaurants that do that with all their ingredients."
Meehan talks excitedly about the overwhelmingly positive effect receiving a Michelin star has had on Kali: "we get these diners from all over the world, and they're open and excited… When I came to LA there were only a handful of good restaurants. There was Spago and Michael's and Patina and L'Orangerie. Now it's a completely different scene. It's a great time to be a diner because the competition is so high, and I think it's only going to get better."
1119 Wilshire Blvd,
Santa Monica CA 90401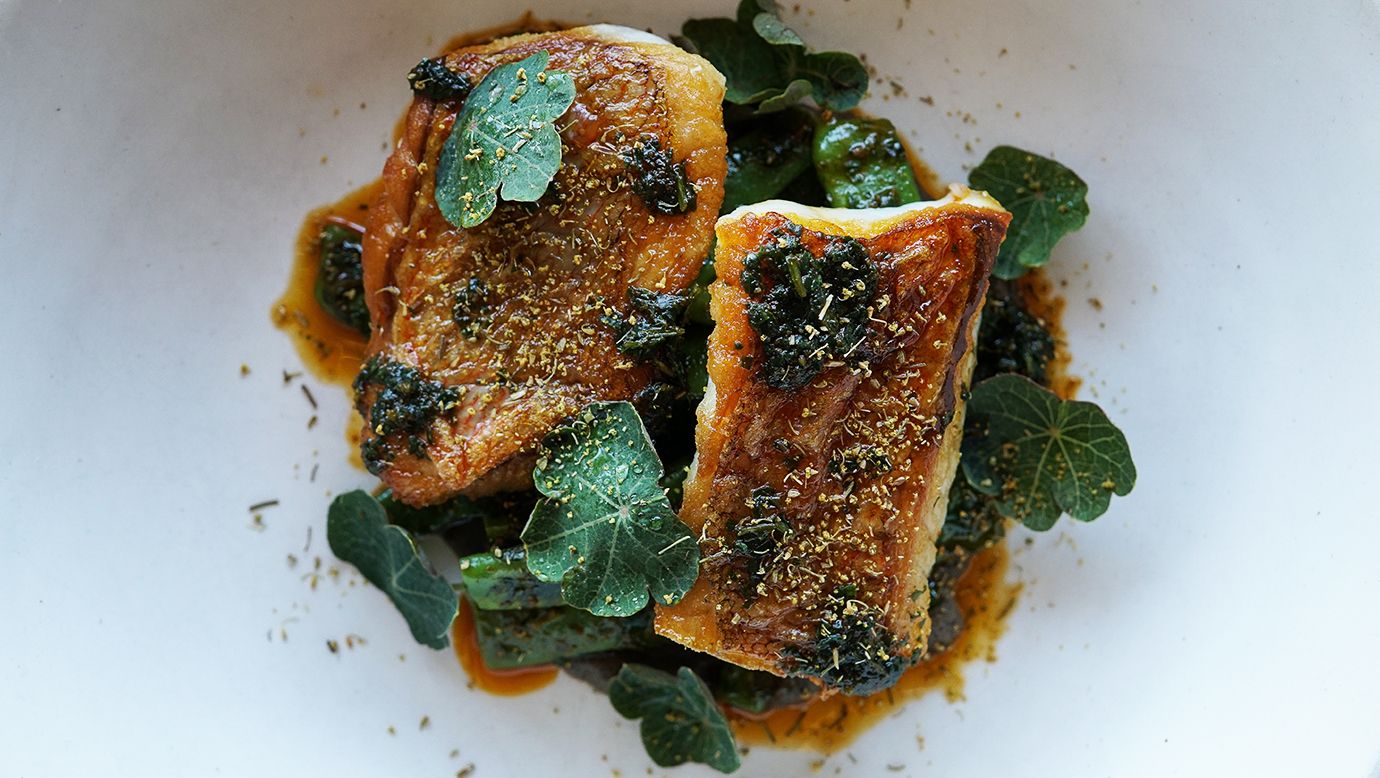 Rustic Canyon, Jeremy Fox
The story goes that Rustic Canyon was born out of a series of intimate dinner parties which founder, Josh Loeb, held inside his family home nestled in the Santa Monica mountain enclave that is Rustic Canyon. With a daily changing menu – directly inspired by the nearby Santa Monica Farmers' Market – dining at Rustic Canyon today still has the feeling of a dinner party, only one hosted by one of California's most interesting chefs. In the beginning there was Evan Funke, who now has what is widely regarded to be LA's favourite Italian restaurant in the form of Felix. Then there was Jeremy Fox – the author of On Vegetables who turned Ubuntu, a dining space attached to a yoga studio, into the most important vegetarian restaurant in the United States. Now there is Andy Doubrava.
Like many before him, Doubrava moved to LA with big dreams. Whereas most come to the city inspired by fame, Doubrava came because of Rustic Canyon's then Executive Chef, Jeremy Fox. "I moved across the country to work for the man, not knowing that he would become the most influential voice in the way that I look at food and curate a menu." A decade ago, it was rare to see an ambitious young chef move to LA from New York – the city long regarded as the United States' culinary capital. Not only is it now happening more and more, but we are starting to see chefs like Doubrava doing things in LA that they never would have been able to do in the East Coast's more traditional gastronomic environment.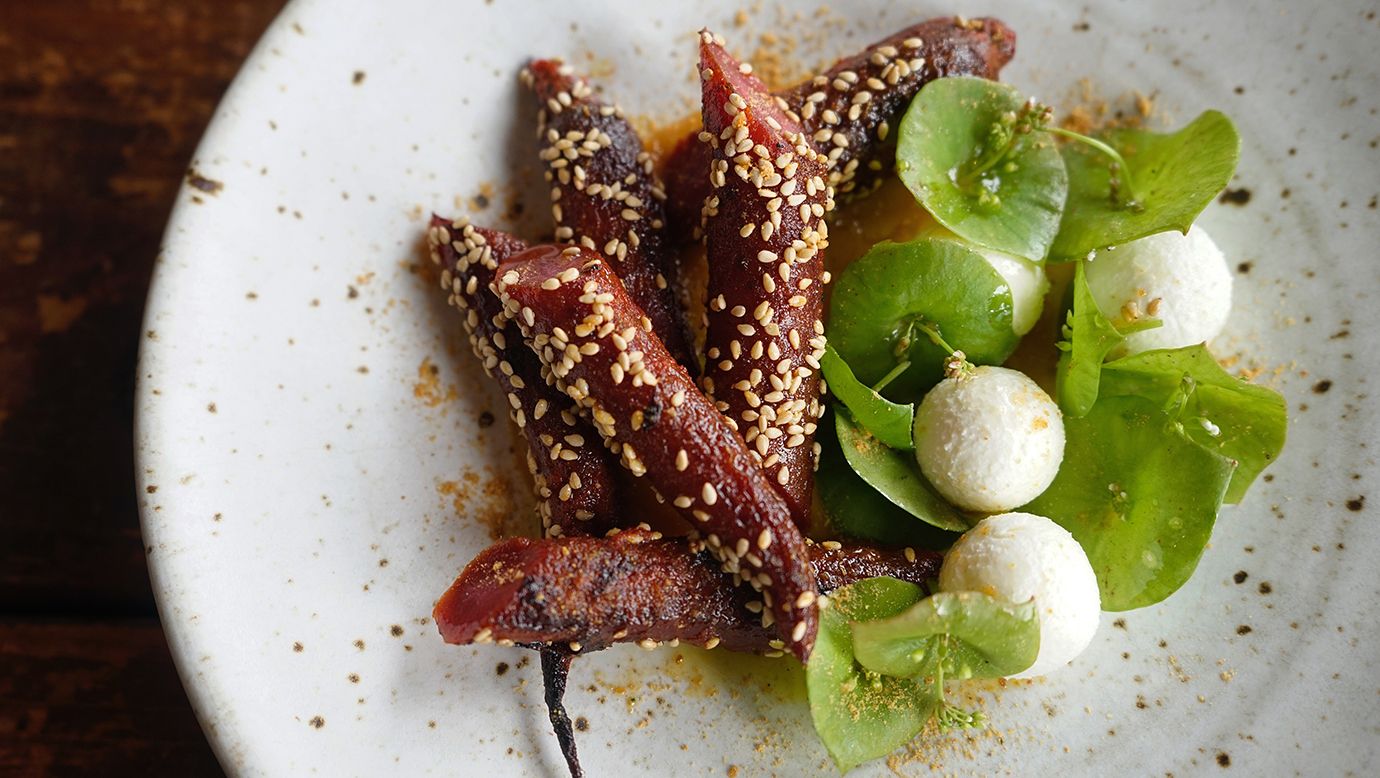 Rustic Canyon local rockfish © Elise Freimuth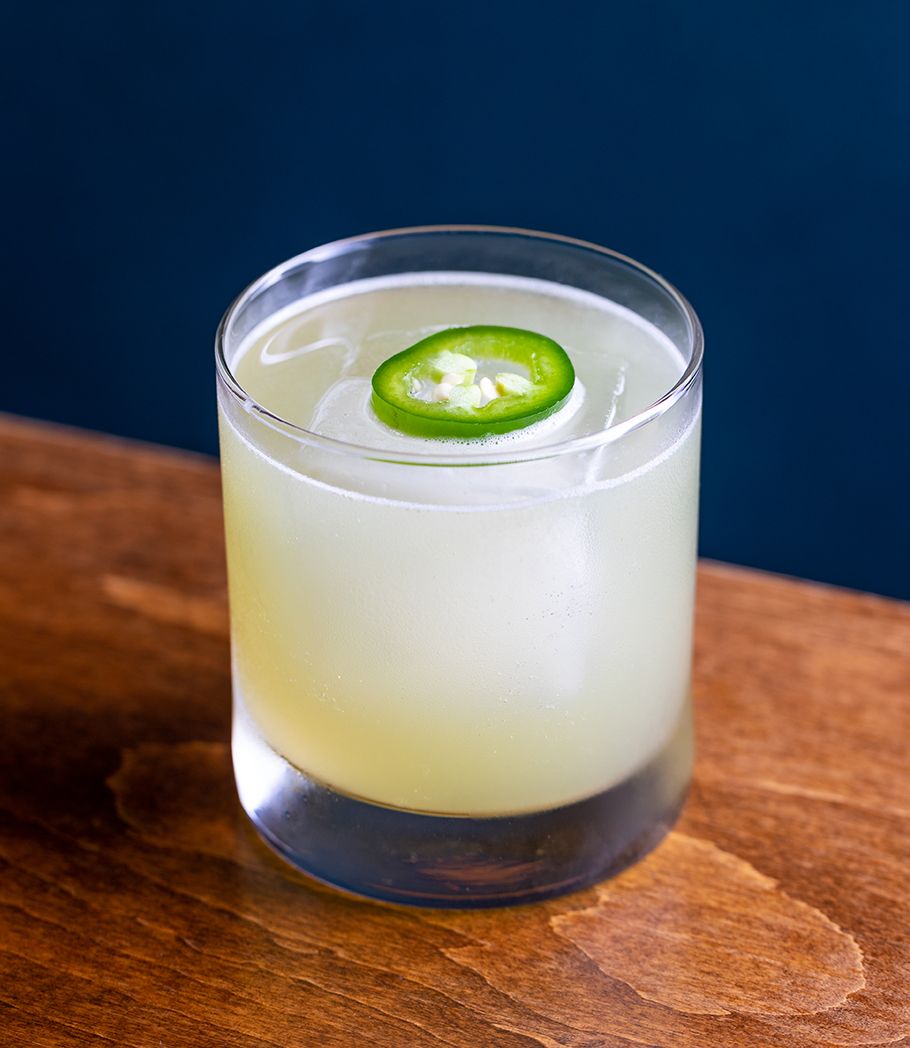 Rustic Canyon margarita © Jakob Layman
Rustic Canyon chef & owner Jeremy Fox © Rick Poon
"Bottom line: [at Rustic Canyon] the farmers' availability should be the driving force behind the menu," said Doubrava, "And the menu is always a mix of vegan, vegetarian, pescatarian and omnivorous dishes… After everything, we are a neighborhood restaurant. A simple salad of lettuces and shallot vinaigrette is never overlooked." Doubrava's access to some of the best produce in the world demands a more spontaneous approach to cooking that simply is not possible in major gastronomic cities that have to import it.
Under Doubrava's watchful eye, this more relaxed culinary approach, which begins with the produce, informs every aspect of the dining experience at Rustic Canyon, from the conception of its menu to its very philosophy as a restaurant.
The juxtaposition of serious culinary thinking, inspired by the fine dining restaurants of Europe or Japan, with L.A.'s more relaxed culture, is what makes the city's gastronomic scene so unique. But it is also exactly the kind of deviation from tradition that the Michelin Guide has historically frowned upon. Even though there were no three-star restaurants in the new Guide, and little recognition for the city's more diverse cuisines, the Guide's return to L.A stands as a global indicator that the culinary ideas they have long rejected have evolved to a point that even they can no longer ignore.
© 2019 Bon Vivant All rights reserved.