---
YolanDa Brown: An Artist for All Ages
---
YolanDa Brown: An Artist for All Ages
Award-winning saxophonist, music education campaigner and children's TV broadcaster YolanDa Brown is a breath of fresh air with her trans-generational and genre-busting approach to music. No wonder she has audiences of all ages up and dancing. In conversation at Wilton's Music Hall, the oldest surviving venue of its kind in London,

Bon Vivant

discovers why you can never be too young to appreciate music.
From sweeping symphonies to intimate ballads, we are all familiar with the power of music to evoke vivid memories, give us goosebumps and even bring us to tears. YolanDa Brown has been moving people with the saxophone for more than 10 years – and observing their response to her music along the way. "I just love being able to see the effect that the music has on an audience," she says. An audience which, she points out, is as eclectic as her sound.
YolanDa shot to fame in 2008 after being named 'Best Jazz Act' at the MOBO Awards. Later, she became the only musician to win the trophy in two consecutive years. But it's her irresistible blend of jazz, reggae and soul that has fans from across the musical spectrum buying tickets to see her live. "At the end of every concert, I meet so many different types of people who have so many different loves of music," she says. "And I think 'yes, mission accomplished!'"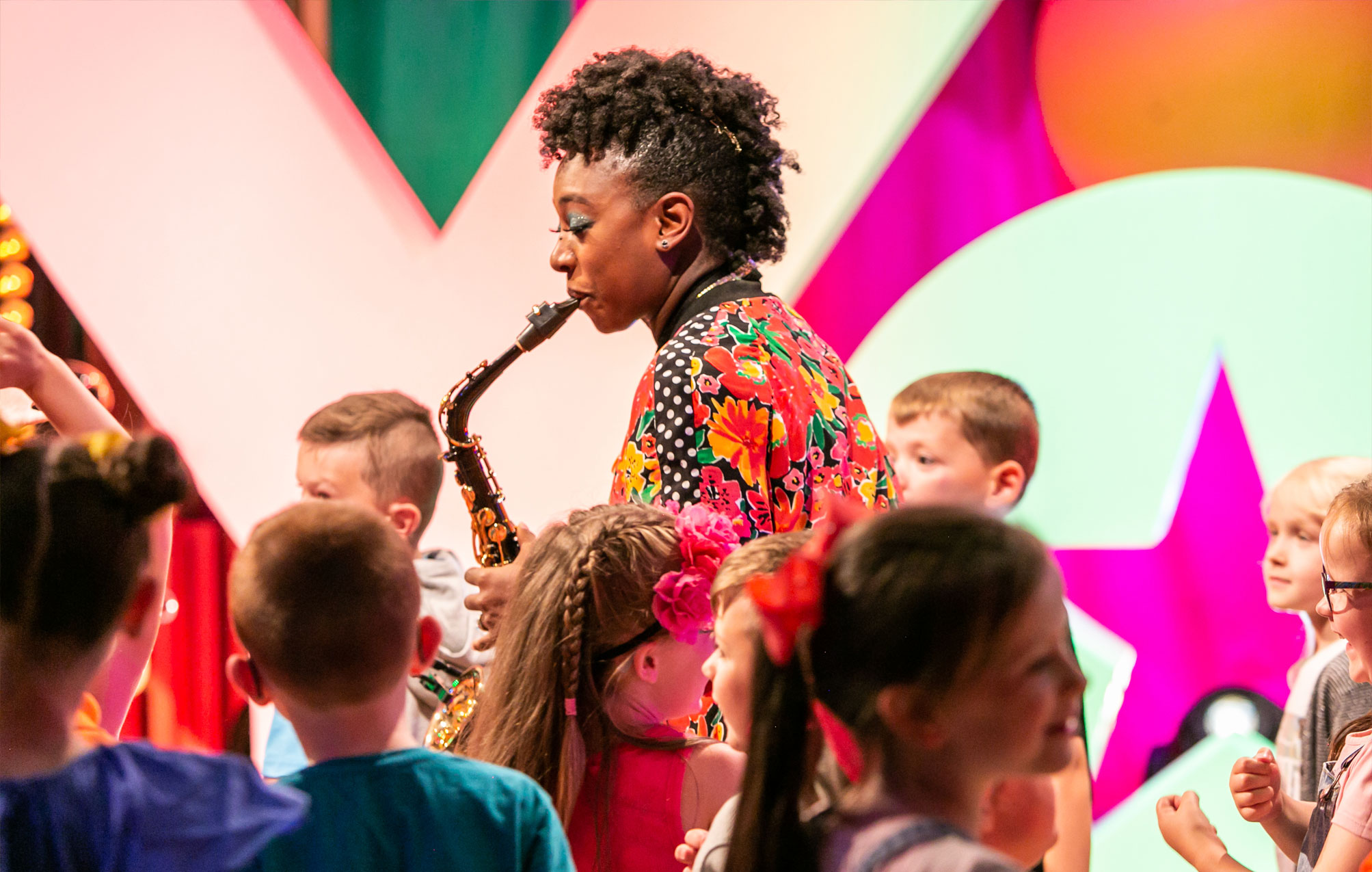 Live music and dancing on YolanDa's Band Jam
Not long before she gave birth to her daughter, YolanDa was on tour with her first record, April Showers, May Flowers, and found that one song, Tokyo Sunset, struck a particular chord – with her unborn baby. "No matter if I knew that she was resting or sleeping, my daughter would just start moving on this one particular song in my womb," she says. "Then she was born and three months later I am back on the road touring again and she came with me. Whenever I play that song, my Dad, who was looking after her at the time, said she would either wake up or be really animated again." For YolanDa this proved that there is no minimum age for appreciating music.
Bringing live music to an early years audience is the essence of her hugely popular BBC show for children, YolanDa's Band Jam, which sees the saxophonist entertain a crowd of youngsters with her musical troupe, The Band Jaminals. For many of the young spectators, YolanDa's Band Jam is their first live musical experience, which adds to the thrill for YolanDa. The positive feedback she gets from the kids is clear. "Nothing beats live music," she says. "What they're trying to get across is that the vibrations of the music are right there and in them."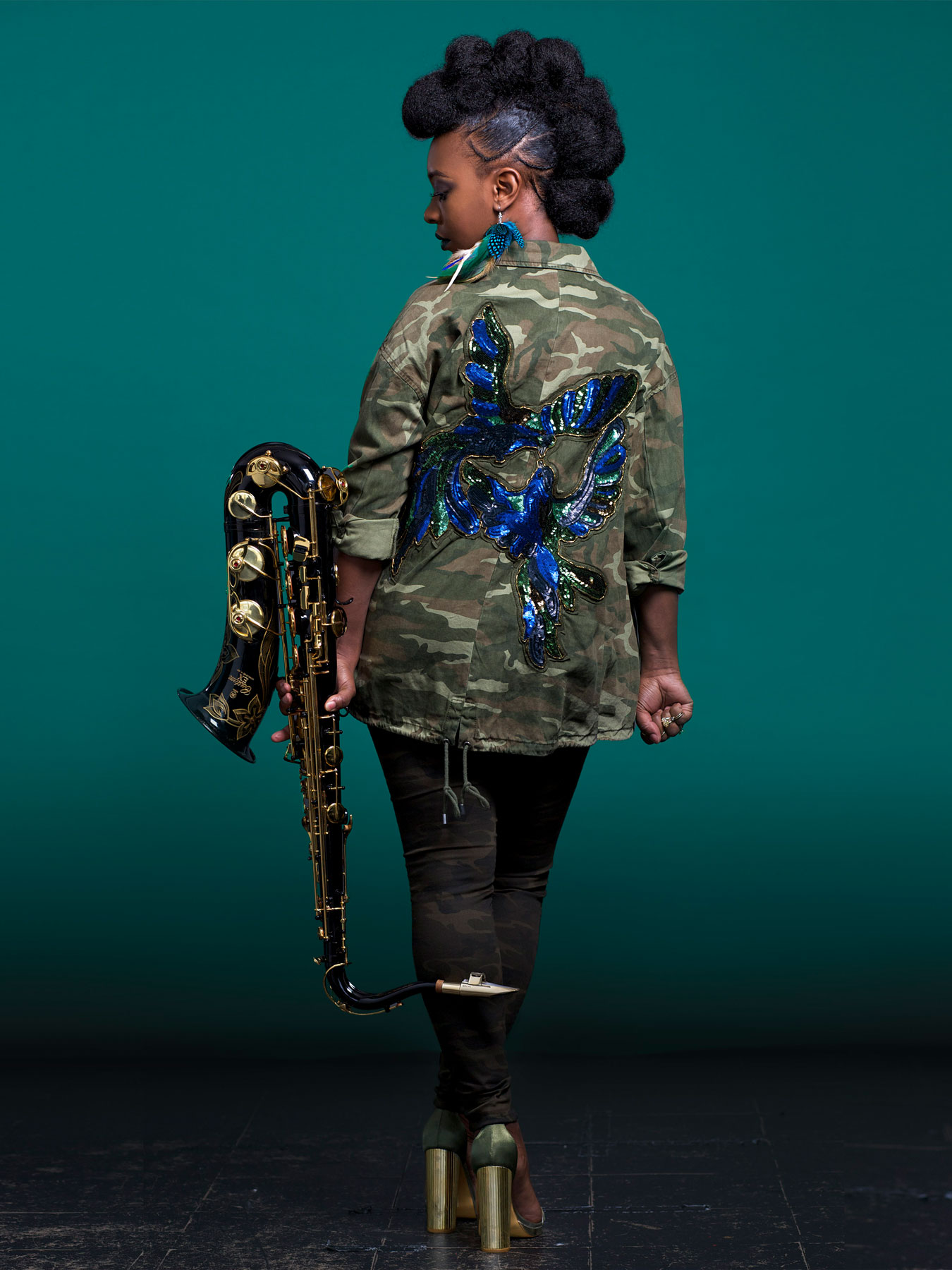 "There's no reason why different genres shouldn't be able to touch you in different ways."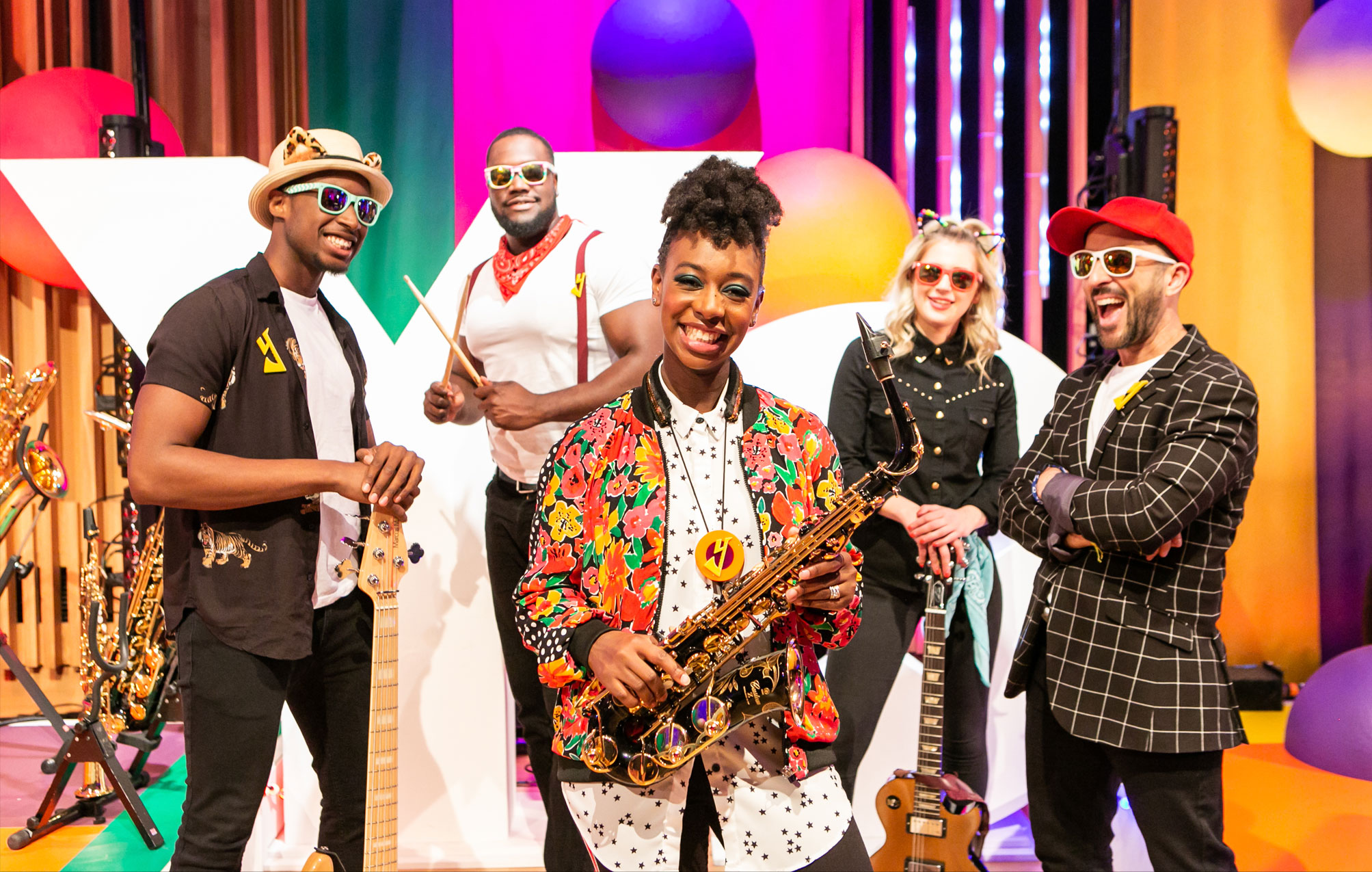 YolanDa and The Band Jaminals
YolanDa still fondly remembers going to her first classical production, Gilbert and Sullivan's operetta Iolanthe, at the age of five. "Now it's become a tradition in our family – we'll go to the Hackney Empire and watch an orchestra, or a ballet targeted to children," says YolanDa. "Being able to have those experiences is really important."
With so many concerts, festivals and events now catering for a mix of ages, YolanDa believes it is a great time for families to go out and make the most of what's on offer, especially in the UK. This year, YolanDa is presenting CBeebies at the Proms, which is themed around a musical trip to the Moon – marking the 50-year anniversary of the first lunar landing – and features a new commission by legendary film music composer Hans Zimmer. "There's no reason why different genres shouldn't be able to touch you in different ways," says YolanDa, who believes we should be asking young people how music makes them feel, rather than explaining that it is 'classical' or 'jazz'.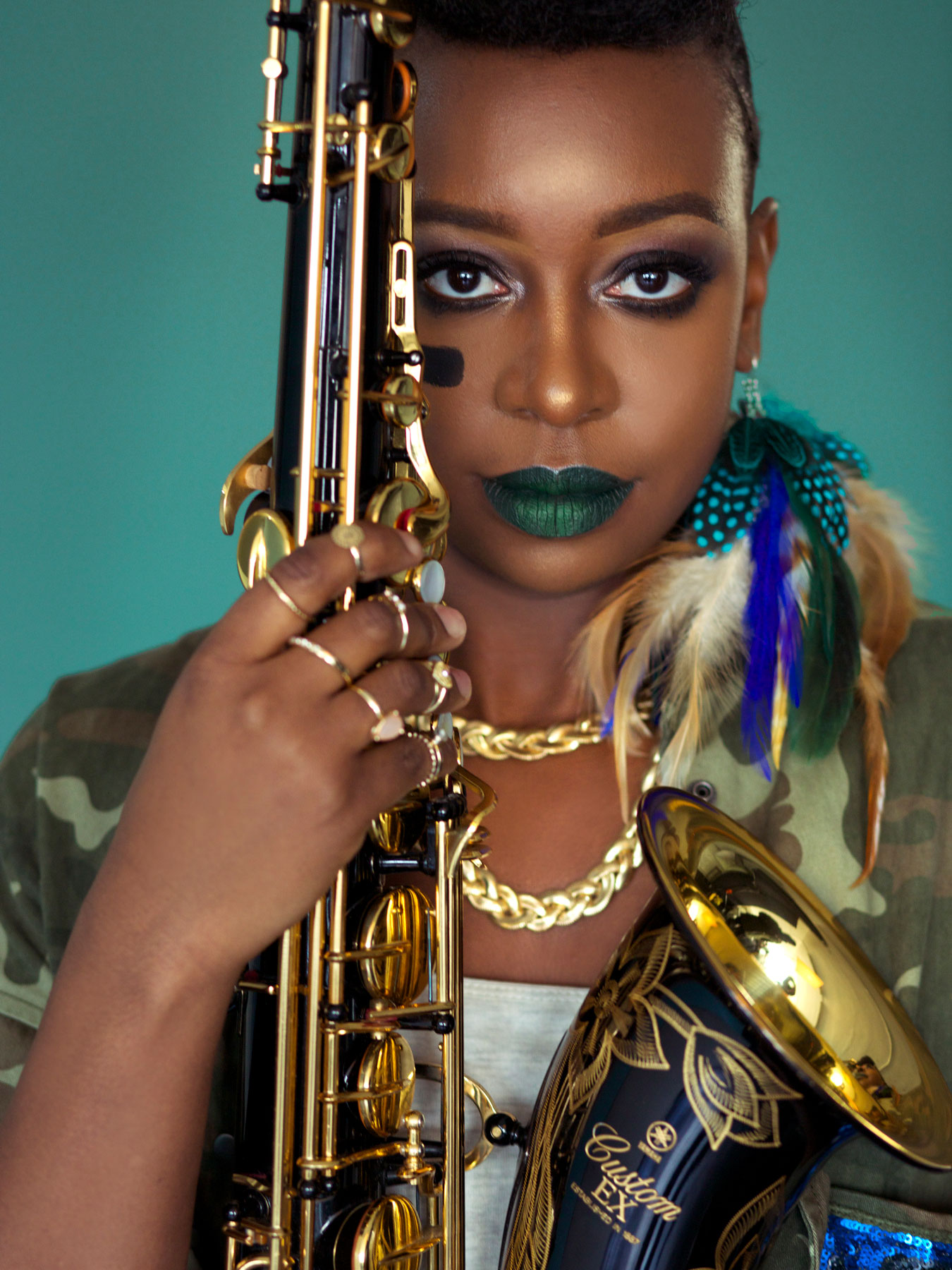 "The great thing about children is they have no inhibitions. They hear music, they dance. It's that simple."
And while the performer always approaches the audience the same way, regardless of age, YolanDa says, "The great thing about children is they have no inhibitions. They hear music, they dance. It's that simple." That's why YolanDa aims to "bring out the child" in her mature audience. "I always give the audience permission: if your body wants to dance, get up and dance. A child wouldn't ask for permission – they would just go and do it."
To mark more than 10 years on the music circuit, YolanDa is in the middle of an anniversary tour with upcoming live dates at Kew The Music, alongside Billy Ocean and Beverly Knight, as well as a headline concert at Alexandra Palace this November. The connection with the audience remains her key driver. "Communication is the most important part of music, especially being a saxophonist – I have no words," she says. "So, for me, it's about taking the audience on a journey and explaining what I'm thinking before playing a song."
In recent years, YolanDa's own personal journey has taken a philanthropic route. As chair of the UK's largest music education charity Youth Music, and an ambassador for the Prince's Trust, Children & Arts and London Music Fund, YolanDa says she "is able to access more people and offer my knowledge and my passion".
It's just another way in which YolanDa Brown is reaching out to the next generation, and opening up ways for them, in turn, to leave their musical mark on the world.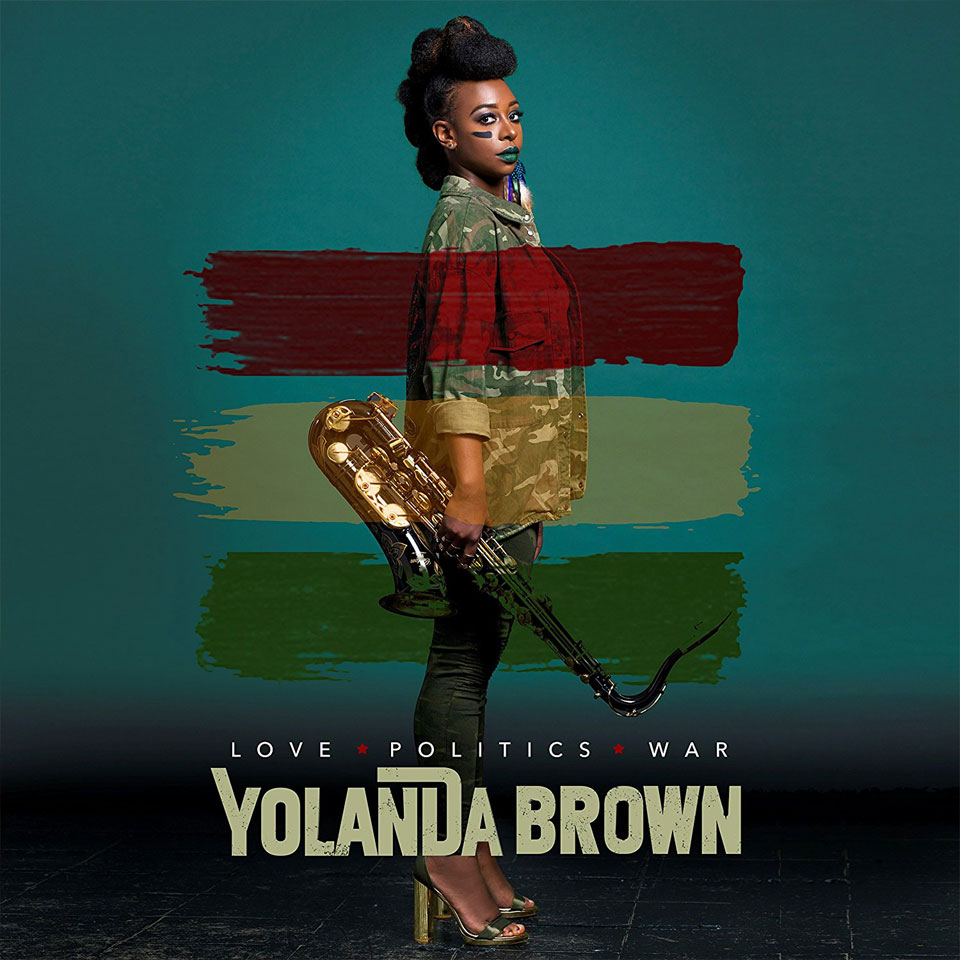 ---
1. Million Billion Love
---
2. Time and Tide
---
3. Dream Dream Repeat (feat. Casey Benjamin)
---
4. This Kind of Love (feat. Raheem DeVaughn)
---
5. Heritage
---
6. Feel No Pain (feat. Dame Evelyn Glennie & Bill Laurance)
---
7. No More War (feat. Phebe Edwards)
---
8. Neutral Ground (feat. Keyon Harrold & Jon Cleary)
---
9. Roll With It
---
10. Crocodile Tears
---
11. General PoliTricks (feat. Rick Leon James)
---
12. Prosper (feat. Raheem DeVaughn)
---
13. Never Too Late
---
14. Sugarcane
---
15. Love At War (feat. Floacist)
© 2019 Bon Vivant All rights reserved